Symphonie pour un cycliste [17'12]
I myself a cyclist and I wanted to illustrate here the sunday training of a cyclist.
A funny and caricatural sound assembly on this environment in the language so particular and where the fantasy (the myth) of the solitary effort, of the escaped "champion" is so present !
Use sounds from the Institut National de l'Audiovisuel (excerpts of Tour de France 1969-1989)

1

ère

partie : L'éveil du cycliste / The cyclist awakening [3'14]
2

ème

partie : Au commencement est le verbe / At the beginning is the verb[2'48]
3

ème

partie : L'échappée fantasmatique / The fantastical breakaway[11'19] (Video showed in the Futura festival: see the page video-art )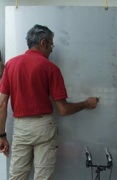 Ataraxie-25 (for 25 virtual istruments) [16'09]
Computer music for a large ensemble of virtual instruments
Of the silence appears a chaotic and hesitating structure, evolving imperturbably towards a situation of balance "ataraxique".

Inoxophonie (for steel plate and computer)
Electro-acoustic work using as unique sound source a big plate of steel which is scratched, banged, shaken,...
oXymore (for piano, string bass, violin, synthesizer and computer)
This music begins and end in the inaudible. The idea here was to oppose extremely low and extremely high sounds, but beyond the acoustic possibilities of the instruments. Note: This work requires a very good audio system: the begining and the end are not very good in mp3 !
To order: