E V E N T S &nbsp 2 0 1 4 and 2 0 1 5
OCTOBER 2015
NUIT BLANCHE: SONS D'ANTHROPOCENE
6 hour non stop video-Concert in multiphony with video live by Cléophée Moser and 11 butoh dancers: In pôle Simon Le Franc, Paris 4e. With Maite Soler, Corinna Torregiani, Denis Sanglard, Laura Oriol, Jutta Mayer, Elizabeth Damour, Carey Jeffries, Sakurako, Solène De Cock, Tina Besnard, Efi Farmaki.
CLOC of Anaïs Lelièvre with Jutta Mayer.


Festival butô-acousmatique EN CHAIR ET EN SON
In the Cube, centre de création numérique at Issy Les Moulineaux
Moreover the co-organisation of the festival in association with MOTUS and the artist-reserchears of the l'Autre Musique
I play "Cellophonie" danced by Maki Watanabe the 23th of october and "Le chant des cendres" danced by Tina Besnard the 24th of October.
JUNE 2015
Buto dans mon jardin #7
With Maite Soler (Ver), Tina Besnard (Across the border), Carey Jeffries (Vérités et Falsifications)
and a CLOC of Anaïs Lelièvre, with Jutta Mayer.

APRIL 2015
Russian label OBS* issue the CD "RADICAL DEMO#5" including my work "Le Chant des Cendres"
Retrospective of ten years of works on Websyn-radio
MARCH 2015
Palimpseste #4
Two new works, with Gyohei Zaitsu ("Cosmogonie") and Tina Besnard ("Recordare")
MEUTE in the Sauvages
In the Studio Le Regard du cygne, with Delphine Mimpontel
FEBRUARY 2015
Buto dans mon jardin #6
With Solène De Cock, Gaëtan Sataghen, Brigitta Horvàth and Lorna Lawrie
NOVEMBRE 2014
Palimpseste #3
With Maki Watanabe, Elizabeth Damour and Delphine Mimpontel: see the page vidéo-clips buto
SEPTEMBER 2014
Buto dans mon jardin #5
With Jutta Mayer, Thibaut Cora and Tina Besnard: see the page buto dans mon jardin#5
MAY 2014
Le 18 mai à Brunoy:
Dans le cadre des journées portes ouvertes des ateliers d'artistes
BUTO DANS MON JARDIN #4
4 espaces, 4 danses, 4 musiques, avec Lorna Lawrie, Elizabeth Damour, Efi Farmaki et Corinna Torregiani (Karakori Ai)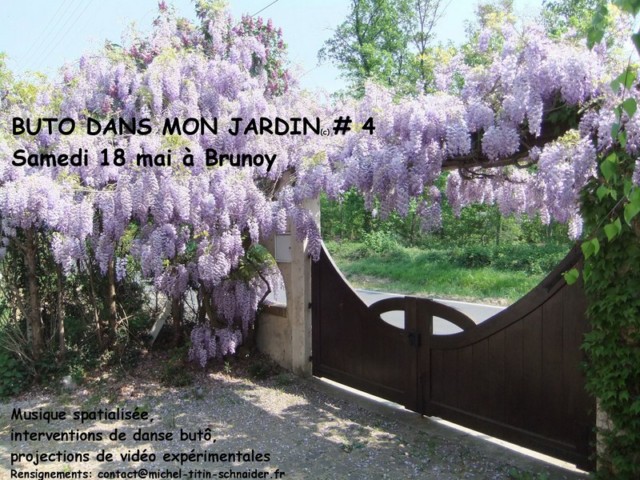 MARCH 2014
Les 28 et 29 mars 2014 à Point Ephemere:

PALIMPSESTE#2 (Danse butô et musique spatialisée):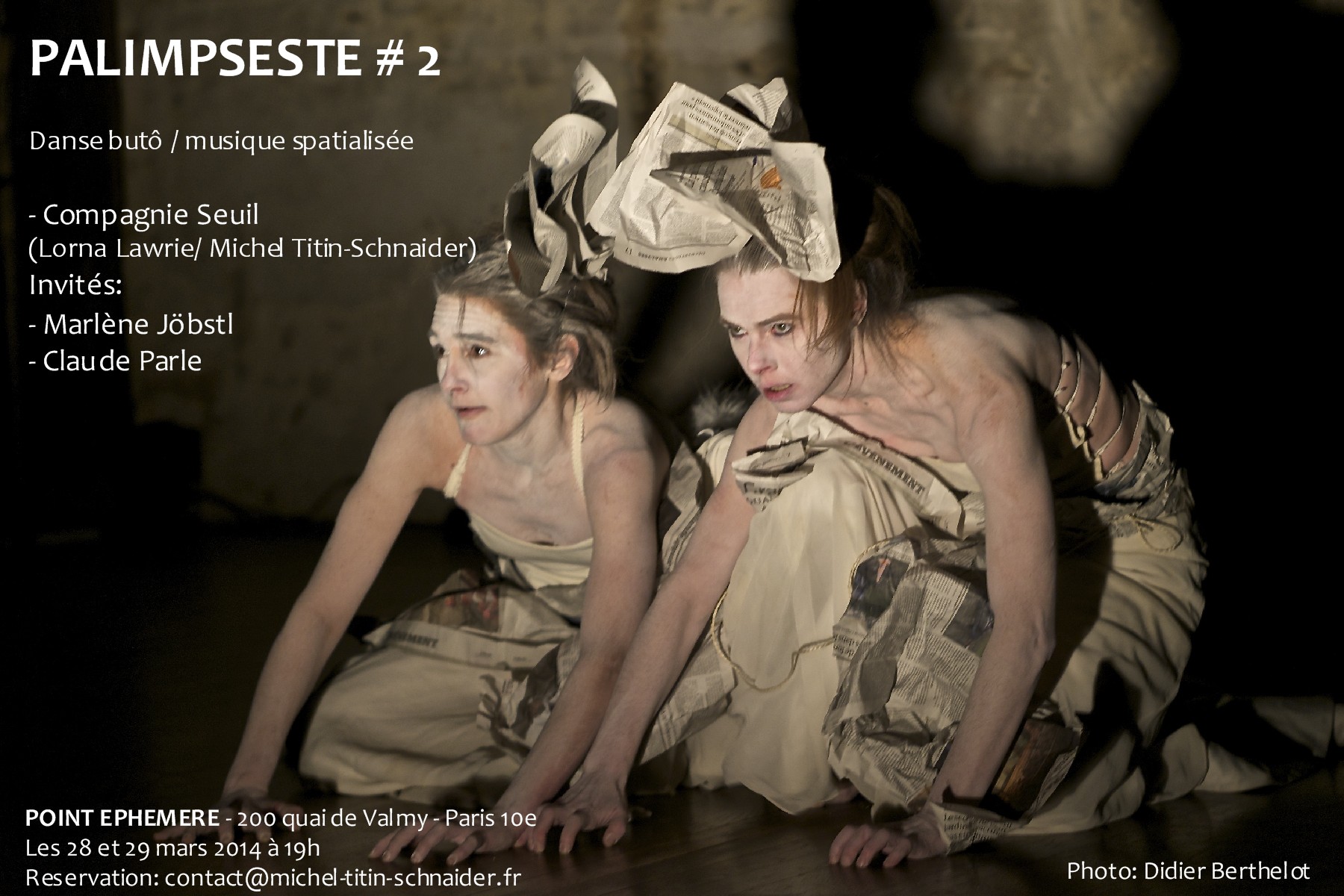 La Compagnie Seuil invite à cette occasion MARLENE JÖBSTL et Romain MOSINIAK

Le 15 mars: Participation au festival "Bouts du Monde" à Monthléry
Affiche de l'evenement


Danse butô: Delphine Mimpontel: performance autour des tableaux de Noémie Pfeiffer.
FEVRIER 2014
BUTO DANS MON JARDIN#3
avec Maki Watanabe (danse), Lorna Lawrie (danse) et Catherine d'Angelo (textes)